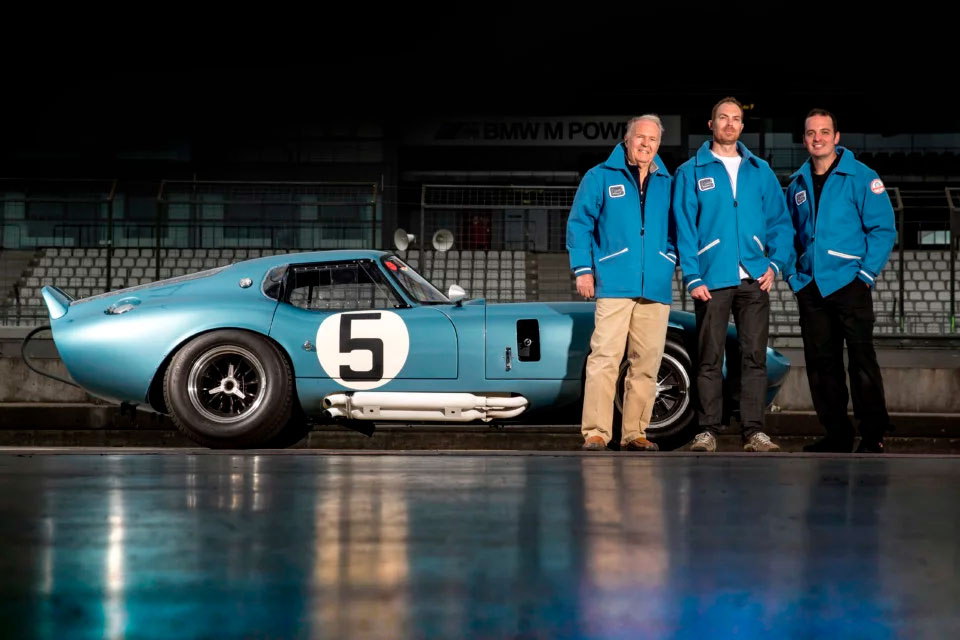 Author: Bryan's Wordd of Wheels
Fellow gearheads, I have the absolute honor and pleasure of providing you with a story you will not believe! I have been authorized to share this absolutely fantastic story, and it is one that you simply must read. This is the amazing story of how a legendary Shelby was recreated. If you like Shelby cars, Cobras, race cars, or good old fashioned muscle cars, read on to learn about the 1964 Daytona Coupe Recreation, designed by legendary automotive designer Peter Brock.
The 1964 Shelby Daytona Coupe Recreation Begins
Our story begins, as many automotive stories do, with the passion and dedication of one man. That man is Mikael Tarne. Mikael started this project nearly 15 years ago. .Mikael reached out to  Shelby American to obtain a 100% accurate recreation of the world famous 1964 Daytona Coupe, originally designed by  Pete Brock. Shelby could not offer for sale this particular car, so Mikael decided to pursue this endeavor on his own. If you cannot buy it, build it, right? Through a twist of fate, Mikael ended up meeting Pete Brock, the designer of the original Daytona Coupe. Since both men were perfectionists, and both shared a passion and love for cars, they hit it off well and soon became friends.
Pete Brock understood and appreciated the fact that Mikael wanted to recreate the Shelby Daytona Coupe in a 100% authentic recreation. Pete was excited and flattered that Mikael had such passion for the project, and promised to support him fully in any way possible to help this recreation come to life. The dynamic duo was formed, and they were ready to get started working on rebuilding this legend.
The Daytona Legend Is Reborn
Things went along as they began planning , and eventually led to the well known HVA 1 meeting at the Simiones Museum. This meeting is where the Shelby American Foundation  scanned and documented the blueprints for serial number CSX2287 and CSX2299. For those of you that know Shelby nomenclature, you know these are arguably two of the  most important VIN numbers in Shelby history.
Serial number CSX2287 is the ONLY TRUE Shelby Daytona Coupe that follows Pete Brock's blueprints, which makes it one of a kind. Serial number CSX2299, on the other hand,  is the actual Shelby Daytona Coupe that was driven to many victories in many races. It was driven by renowned racing legends such as Bob Bondurant and Dan Gurney. This is the car that won the Le Mans GT class in 1964 and 1965, and has since been known as "The Le Mans Winner".
Finding Resources To Build It
Mikael had a mission to accomplish, and needed resources to make it happen. Mikael started by contacting well known replica builders that specialize in aluminum body cars to rebuild the legendary 1964 Daytona Coupe. He had difficulty finding a partner that could build the body to the exacting standards required. Making car bodies to exact standards in aluminum is quite difficult. It requires specialized skills and tools, and is a rather uncommon skill set to find. After an exhaustive research, Mikael found a builder named Bastian Ebener in Stolberg, Germany that was able to build the bodies. Bastian had the racing spirit and the racing DNA in his shop, and an arrangement was made to recreate the all-aluminum body. 

After 5 years of planning, finding vendors, and tireless efforts, the team of Pete Brock, Mikael Tarne, and Bastian Ebener was finally in place, and construction was able to begin.  The following are some images of the progress as the two cars were being built.
Legendary Cars
The first car to be built was a replica of 1964 Daytona Coupe serial  number CSX 2299. This original has been successfully recreated under the serial number PBX 2299 (CS stood for Carroll Shelby – now PB stands for Pete Brock). CSX 2287 was recreated under the new serial number PBX 2287. Both cars have been built to FIA Appendix K historic motorcar recreation specs. These cars took ages of planning, time, expense, and labor to build. They were certainly a labor of love, and will allow the legendary Shelby cars to live on.
If you, like this author, are salivating over the prospect of owning one of these legends, you are in luck! Both PBX 2287 and PBX 2299 are for sale and ready to race. Mikael is also building two identical chassis as well, so there will be two recreations of CSX 2299 and two of the CSX 2287. I would imagine there will be a long line of people wanting to buy these cars, so you better act fast if you want one!
If you are interested in purchasing one of these four legendary cars, contact the seller at mt@daytona-coupe.com. You could possibly own a legendary 1964 Daytona Coupe Recreation!
If you would like to learn more about this legendary team, feel free to find them online.
Instagram :  @mikael_tarne

This, fellow gearheads, is an amazing story and I hope you enjoyed it. Feel free to contact the owners and team that built the car using the information above. I am sure they would love to have you follow them on their next adventure, or contact them about purchasing the cars.