Billionaire Racers Have An Option With FIA-Approved Daytona Coupes
By TOM STAHLER JUNE 09, 2018
Legendary car designer, race team owner and entrepreneur, Peter Brock, is producing exact resurrections of the iconic Shelby (Cobra) Daytona Coupes, so a whole new generation of fans can truly experience the period-correct sheer excellence of these cars — and in so doing, gives that full-on thrill at a fraction of the crazy-money value of the six originals. The first of these new-old Coupes, PBX2299-1, will debut at the Richard Mille Nürburgring Classic historic races, June 15-17, in Germany.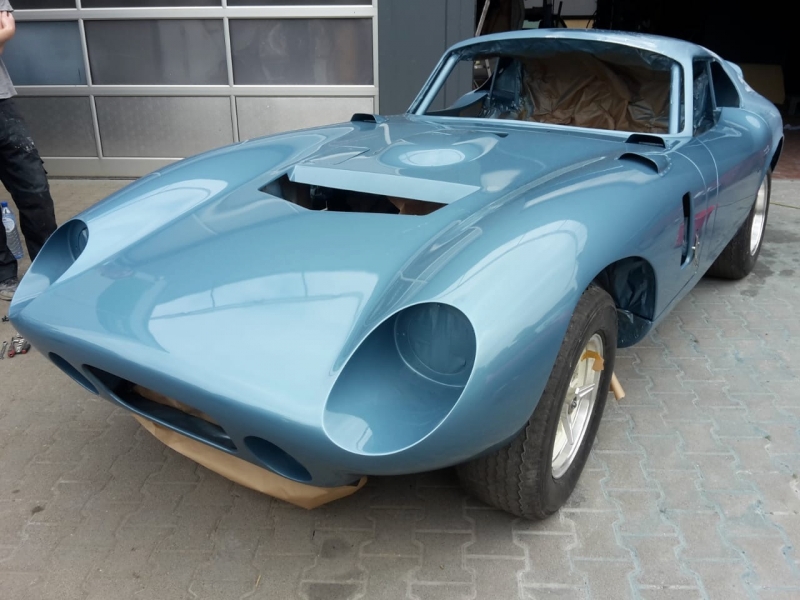 "With the price on the six original Daytona Coupes now in the millions it's become financially unfeasible for their owners to put them on track for vintage events. That's left a gap on the grids of the major vintage events in Europe, like Le Mans, Spa and Nürburgring," explains Brock. "To rectify that I've been working with a couple of guys in Europe to build a series of exact recreations, FIA-approved, so fans will again be able to see and hear what these old warhorses look and sound like when really driven hard."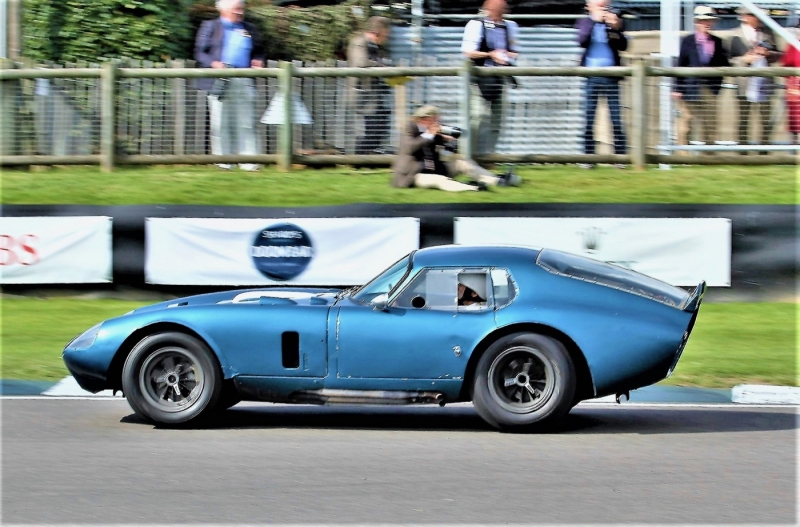 Racing a car is hazardous. No matter your level of investment, every time the car leaves the pit lane, obstacles abound. Crashes, off track excursions and contact are not a possibility, they are a probability. The harder and more often you drive, the more risk comes into play. In Europe, vintage racing is a much more fierce challenge than in the US. They really race. "Chrome horn" use, with door-handle to door-handle rivalries are more the norm in FIA-sanctioned events than the multi-race-suspension-worthy "infractions" for contact in HMSA, VARA, SVRA, CSRG and smaller US-vintage sanctioning bodies. But for Europe, this makes it harder and harder to put increasingly valuable cars on the grid.
This has led many owners in Europe to "recreate" bespoke replicas of the highly collectible cars, that actually run the grueling races, while the priceless originals stay home or go on display in everything from living rooms to museums. Certainly for those who do race the originals, there is the temptation to race them gingerly, with a very timid right foot reaching for the middle pedal. Damage, and the absolute lack of parts and bodywork requires fabrication. Those changes and repairs will ultimately devalue the car. As Jay Leno once said, "What's the difference between millionaires and billionaires? Matching numbers."
Peter Brock's work in automotive design represent amongst the most coveted cars in the collector market which include the 1963 "split-window" Corvette StingRay and the Shelby Cobra Daytona Coupe. While there were a plethora of the StingRays, there were only six Daytona Coupes. The rarity alone — then add the amazing racing pedigree — have made the Daytona Coupes values rise to nearly eight-figures. At the Goodwood Revival, in 2015, all six of the fabled Coupes were reunited, with Brock in attendance, for exhibition laps. A feast for the eyes and ears, Brock is excited that the copies will prove even more amazing at "full-song."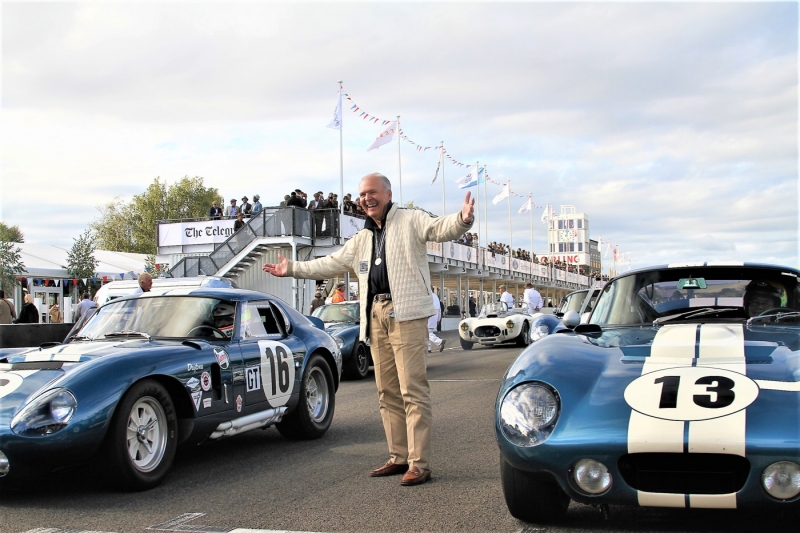 Brock is really excited about the purity of the Daytona Coupes: "The reason they are so accurate is that we actually 3D scanned each original car so we could make new tooling," Brock describes. "With some trick of modern technology we've been able to duplicate them exactly. There are some other replicas out there built in various parts of the world, but none are really exact, so it'll be fun to see a real one back on track with 1964 livery which no one has seen in 54 years!"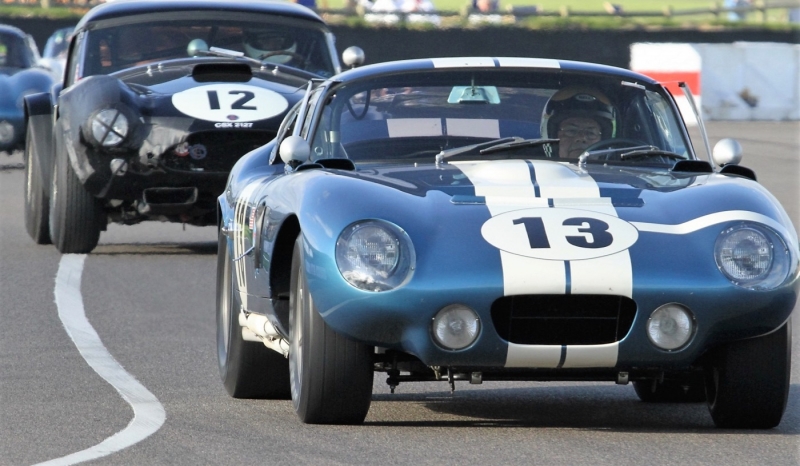 The duplicate appearing at the Nürburgring is actually the second Daytona Coupe produced — and the first built by Carrozzeria Gransport. Brock recalls, "Being hand-built, (the Coupes) tended to vary slightly in form. The solution to getting more built after we'd done the first one at Shelby's shop in Venice, California, was to have a small carrozzeria in Modena build the next five bodies."
That first "Italian Job" CSX2299 raced in nine FIA events from 1964 to 1965, piloted by greats such as Dan Gurney, Bob Bondurant, Maurice Trintignant, Bernard de St. Auban, Jo Schlesser, Hal Keck, Jack Sears, and Dick Thompson. It was victorious at LeMans '64, the Tourist Trophy '64, Daytona '65, Sebring '65 and the Tour de France at Rouen. During the LeMans 24, Gurney and Bondurant, clocked over 196 miles per hour on the Mulsanne Straight!
Brock laments, "My drawing was in inches…they worked in millimeters, so there was no easy conversion…so they were mostly copied by eye. The first one, CSX 2299, varied the most as the Italian artisans thought my roofline in error so, with good intentions, they fixed it and so it looks the most different from my prototype CSX 2287. This first Italian variant was still a very pretty car, but about 4 mph slower in top speed!"
"When we ran the two at Le Mans in '64 they were running one-two for about half the race against the works–Ferraris, Jags, Astons and more," Brock calls to mind. "Our leading CSX2287 was disqualified during the night as the result of an illegal start, so the Italian job, CSX 2299, went on to win the 24 Hours with Dan Gurney and Bob Bondurant."
While American companies Shelby-American and Superformance have made beautiful modern interpretations of the legendary cars, the Brock Daytona Coupes will be exact, bespoke duplicates with fabricated frames, hand-made bodies, 289-cubic-inch Ford powerplants with four twin-choke down-draft Webers, making about 400 BHP.  These engines are as back in the day: flat tappet type, no roller cams or trick heads. They also have period-correct interiors, brakes, transmissions and liveries. They will undoubtedly be "the real deal."
The bespoke replica of the "original" prototype Coupe PBX2287-1 is due to be released in December. The original car was the subject of intense controversy, several years ago, in an ownership fight, which included 1960's music producer, Phil Spector, that ultimately saw the car end up in Philadelphia's Simeone Museum in completely unrestored condition. CSX2287 was the design that proved all the naysayers wrong — including Carroll Shelby himself — when in testing at Riverside Raceway in California, broke the lap record by three seconds with Ken Miles at the wheel. Brock and many other Daytona Coupe enthusiasts are looking forward to seeing these cars run in anger again while the originals stay safe from the perils of on and off track excursions in modern racing.
https://daytona-coupe.com/wp-content/uploads/2018/06/billionaire-racers-have-an-option-with-fia-approved-daytona-coupes-2018-06-07_13-50-22_475349-e1535191321740.jpg
499
800
ph
https://daytona-coupe.com/wp-content/uploads/2018/10/cobra-logo-110.png
ph
2018-06-09 11:30:13
2018-08-25 21:35:42
Billionaire Racers Have An Option With FIA-Approved Daytona Coupes