DAYTONA COBRA COUPE: SUDDENLY IT'S 1965!
The first of six laser-perfect recreations of designer Peter Brock's Le Mans winning Daytona Cobra Coupe – CSX2299 – broke cover on June 15 at the Nurburgring in Germany. It carries VIN # PBX 2299-01. Suddenly it's 1965.
Time limitations permitted construction of just six of the famed Shelby Daytona Cobra Coupes, built to challenge Ferrari, Jaguar, Aston-Martin and Ford's GT40s for the World's FIA GT Championship in 1964 and 1965. Collectively, the six uniquely designed racers, driven by some of the world's most talented drivers, won the World's Championship in 1965 making the Daytona Coupe the only American designed racing car to ever achieve this status.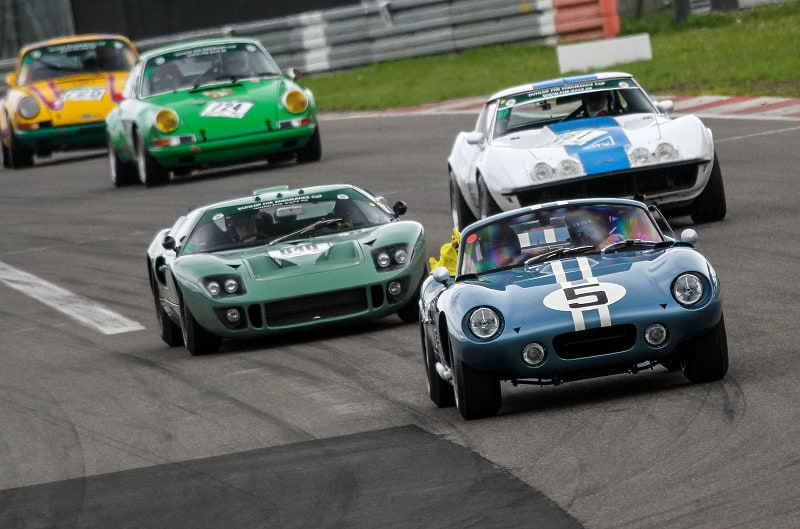 Today the rarity and historical value of these now legendary racing cars has pushed their monetary worth into the millions, making the risk of putting them on-track in vintage competition almost impossible. As a result all are now held in private collections or museums creating a void on the grids of Europe's most prestigious vintage racing events.
The first Daytona Cobra Coupe, created by Carroll Shelby's young designer, Peter Brock, in the fall of 1963, was truly unique. Its flat roof-line and chopped-off aft end defied all "common wisdom" of the time which decreed a long, smooth, "rain-drop" shaped tail as the most efficient aerodynamic form for a racing car. It wasn't but it still took many years for his radical concept to be accepted by automotive designers all over the world.
Today almost all modern production cars have flat roofs and chopped off tails…. even the ubiquitous Toyota Prius! Brock readily admits that he was inspired to create the Daytona's now iconic lines by an obscure German treatise on aerodynamic form written in 1937 that essentially proved the value of the controversial concept. Ironically that data was never utilized in production form back then as it was considered "too unconventional" for the era.
In 1962 Shelby's talented crew, including the team's chief engineer at first also rejected Brock's concept drawings. Shelby's lead driver, Ken Miles, however, backed the idea and convinced Shelby to proceed with the project. He actually helped build the first car. Weeks later Miles proved Brock's design by breaking the lap-record at Riverside Raceway in the car's first test. The numbers convinced a skeptical Shelby to get behind the project and enter the car for the season's first race at Daytona, which gave the car its name.
In February 1964 this first Daytona Cobra Coupe, serial number CSX2287, was entered against the world's best at the Daytona 2000 K race. It immediately set a new track lap record on the famed high-banked Florida Speedway and then led the race for several hours before being sidelined by a refueling fire in the pits. The new design's second race at the 12 Hours of Sebring, a few weeks later, again proved Brock's unusual form by winning the GT class against all-comers. That initial victory convinced Henry Ford II to back Carroll Shelby's assault on the World Championship of Makes. Henry Ford put up the money and wisely ordered Shelby to construct five additional coupes, even though Ford's own engineers were developing their own GT40 design, for the same purpose, at the same time.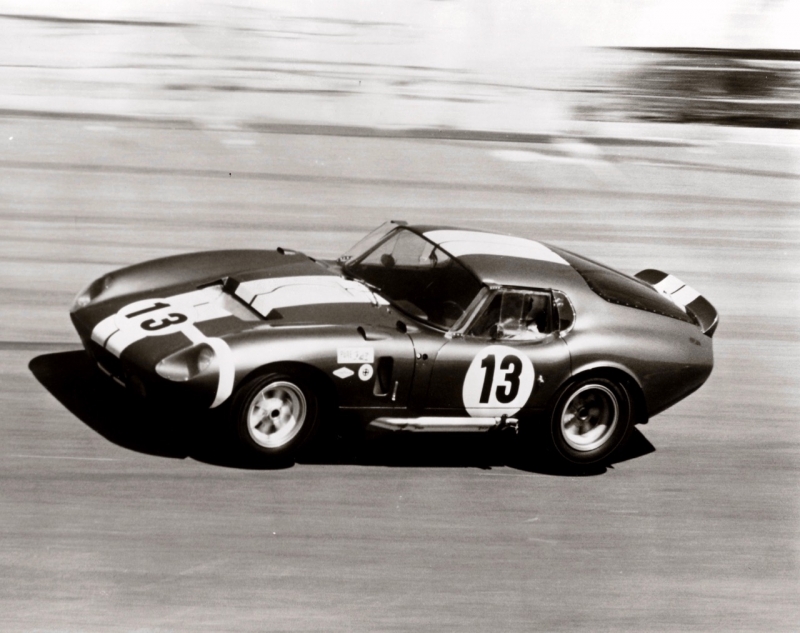 Because the tiny Shelby team had only a half a dozen mechanics and they were all focused on preparing and racing the first Daytona Coupe in Europe, there was no one left in California to build the next five cars. Shelby solved the problem by contracting a small Italian specialty body builder in Modena, IT to fabricate the Coupe's next five bodies. Carrozzeria Gransport hand-built each of the new Daytonas, starting with serial number CSX2299, above, which deviated slightly from Brock's original lines. It still proved fast enough to win the 24 Hours of Le Mans in its first outing and then several more important races over the next several months. In two seasons the six Daytonas won almost every race in the series, literally forcing Enzo Ferrari to abandon the lucrative GT class!
In 2015 Charles Gordon-Lennox, the 11th Duke of Richmond, personally invited the owners, and all six of their Daytona Coupes, to his famed Goodwood Revival, a classic vintage racing event in West Sussex. Lord March said it was his desire to share "A rare experience" with others. He wanted to see and hear, once again, these special American built racers that had so inspired his interest in motorsports as a young boy when he'd seen Dan Gurney drive one to victory on his family's own circuit. Goodwood was indeed a venue historically worthy of their re-appearance. Incredibly, when checking the records, it was determined that the Goodwood event was the only time in history that all six Daytonas had ever been gathered in one spot! It would also, most probably, be the last time they would all ever again be seen as a group. After their stunning and memorable on-track display each was then returned to collections in Argentina, Japan, Germany and the United States.
For those who love the sight and sound of rare vintage racers flashing across the world's most famous circuits, the stunning visual experience and aural power of the Daytona's thundering exhausts will not be completely lost. Three years ago the Daytona Coupe's designer Peter Brock, joined with two dedicated Cobra enthusiasts – Mikael Tarne and Bastian Ebner – to once again build, in perfect detail, exacting recreations of the six legendary racers so they could again be seen in competition at FIA-approved vintage events around the world.
The first of these perfectly replicated Daytona Cobra Coupes, serial number PBX 2299-01, appeared and raced at the Nurburgring on June, 15-17. The famed Nordschlielfe circuit is a fitting site for a Daytona's reappearance as it was here in 1964 that American driver Bob Bondurant won the GT race in Daytona Coupe CSX 2601 and set a lap record that stood for 10 years!
Note here the specific attention to the serial numbers of these rare racers. Since only six cars were built the historical significance of those numbers is vitally important to collectors, enthusiasts and motorsports historians worldwide, as they care deeply about seeing cars that are original or as close to original form as possible.
Since winning the World Championship in 1965, many enthusiasts around the world have attempted to replicate the Daytona Coupe's unique lines for various purposes. What is not generally known or understood is that each of the six differs slightly from the others, so all of these presently existing "replicas" are technically and historically inaccurate! Because all six of Shelby's Daytona Coupe bodies were hand-built, one in America and five in Italy, each had significant details in form and construction details that were missed by those who attempted to copy the originals.
What makes PBX2299-01, so importantly different from all other attempted Daytona Coupe "replicas" is that these very special automobiles, and other Daytonas now under construction at Daytona Coupes ApS, in Germany, are all exact copies built from super-accurate 3D scans of the originals! Each one is being created in exacting detail; personally overseen and approved by designer Peter Brock, so anyone seeing one in action can be certain they are seeing and hearing a car as close to original form and sound as is possible to build. PBX2299-01 is in fact an exact copy of CSX2299, the very first Daytona Cobra Coupe body built at Carrozzeria Grandsport in Modena, IT in March and April of 1964.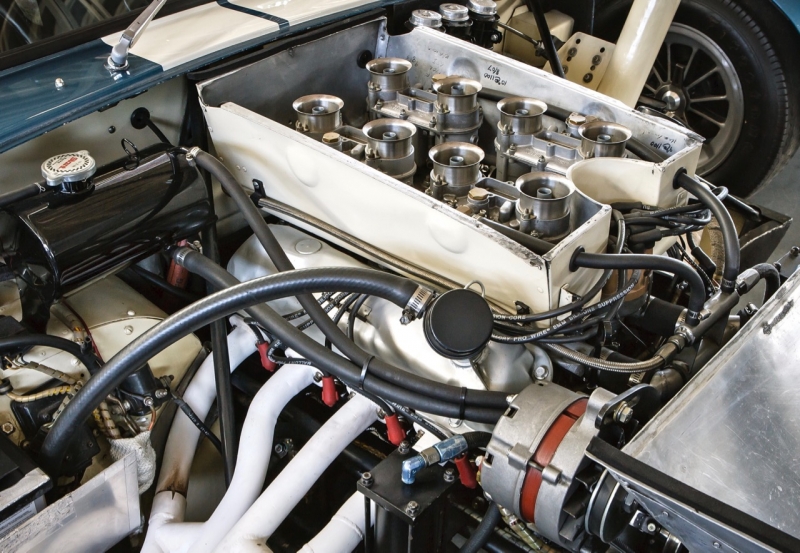 CXS2299, above, now owned by the Miller Collection in the U.S., is best known by students of racing history because it was co-driven to victory at Le Mans in June 1964 by Dan Gurney and Bob Bondurant. PBX2299-01 has therefore been finished in exactly the same livery used by the Shelby team at Le Mans in 1964. This rare color combination of Viking Blue with Wimbledon White racing stripes has been unseen for 54 years! It was used on just two of the Daytona Coupes in 1964, as the team's colors were changed to a darker Guardsman Blue with White stripes in 1965 when the Ford acquired Carroll Shelby's complete operation to further develop and race the GT40. As a result of this contract, all development on the faster more reliable Daytona was terminated in favor of the more sophisticated, mid-engine GT40s, which it was felt had more potential.
In 1965 all six Daytona Cobra Coupes were formally "loaned" to the Allen Mann Racing Team in the UK to contest the FIA's GTIII Class for the World Championship. It was actually Allen Mann Racing that won the World Championship for Shelby and Ford in 1965. Carroll Shelby's Shelby American team was correctly awarded the World Championship trophy as Shelby American was the FIA's officially recognized "manufacturer of record."
PBX2299-01, is the first of these exacting Peter Brock designed Daytona Cobra Coupe replicas being custom-built for competition in FIA vintage events. Brock is therefore personally affixing his designer badges to the cowl of each example. Future clients of the Tarne/Ebner operation, Daytona Coupes Aps, will be able to select either a perfected and refined copy of the original prototype, CSX2287, or the slightly different Italian "interpretation" of Brock's design, CSX2299. Since both of these chassis also raced under the darker "Guardsman Blue" Ford-sponsored livery in 1965, future owners will have the option to select the exact livery used in 1964 or 1965.
Daytona Cobra Coupe (built by Daytona Coupe Aps) PBX 2299 or PBX 2287-style specifications:
BODY
All aluminum alloy, hand-fabricated with a special 3D duplicative process to replicate the exact lines and details of the original Daytona Cobra Coupes.
ENGINE
289 cubic-inch Ford V8, modified with Shelby-developed components in exact vintage specifications approved for FIA racing.
 TRANSMISSION
Borg-Warner T-10, short tail shaft four-speed with special Shelby ratios for competition.
REAR END
Salisbury-type rear fitted limited-slip differential and gear ratios suitable for competition.
CHASSIS
Exact duplicate of the original AC-built round tube Cobra chassis as modified and constructed at Shelby American, Venice, CA. Includes original roll-over bar and seating and current FIA approved safety equipment suitable for vintage competition.
SUSPENSION
Independent four-wheel suspension with transverse leaf springs front and rear and Koni-style adjustable dampeners at each corner.
BRAKES
Dunlop-style, single-piston alloy calipers on vented steel discs.
WHEELS/TIRES
Halibrand style alloy racing wheels (and spare) mounted with proper owner-selected tires, suitable for street or competition.
FUEL TANK
35-gallon capacity tank with internal safety fuel cell.
For more information about availability, pricing, etc. of the Shelby Cobra Coupes, please contact Daytona Coupes ApS, MT@Daytona-Coupe.com

Also, please visit Peter Brock Racing Enterprises, https://bre2.net/
https://daytona-coupe.com/wp-content/uploads/2018/06/newcsx2299-4-1-e1535188833714.jpg
543
800
ph
https://daytona-coupe.com/wp-content/uploads/2018/10/cobra-logo-110.png
ph
2018-06-26 11:16:25
2018-08-25 21:34:31
DAYTONA COBRA COUPE: SUDDENLY IT'S 1965!